Rechargeable, Never Ending, Water Gun Fun 

The AquaAssult™ Electric Fully-Auto Water Gun is designed to let you stop worrying about manual pressurization hassles with one-touch firing! 
Every pull of the trigger discharges a powerful individual blast of water with unprecedented precision and super long range of 26-32 ft. providing you with an exciting water gun battle with your friends or kids!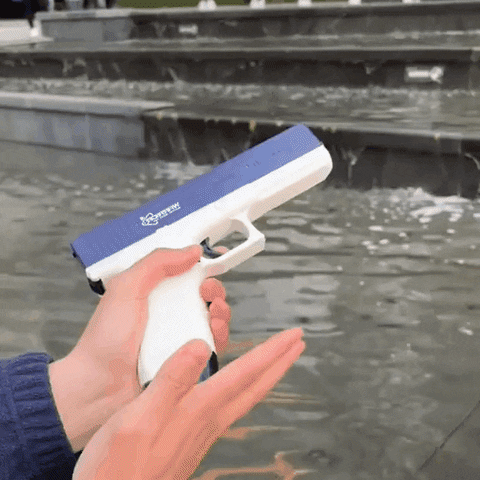 Water Guns Will Never Be The Same
✅ Endless Hours Of Fun: AquaAssult™ water gun is made of high-grade ABS plastic and meets US toy quality standards. The electric water gun's reachable batteries supports USB charging. Includes two high-capacity 3.7V batteries (single battery lasts 25min) and a USB charger. Single battery charging time is 110 min.
✅ Never Stops Firing: 
This electric water gun comes with a spare water tank that will help you turn the tide of battle! Filled with water, it can be fired over 420 times! When you run out of water while fighting with your friends, quickly grab your spare clip (58cc) and start fighting back!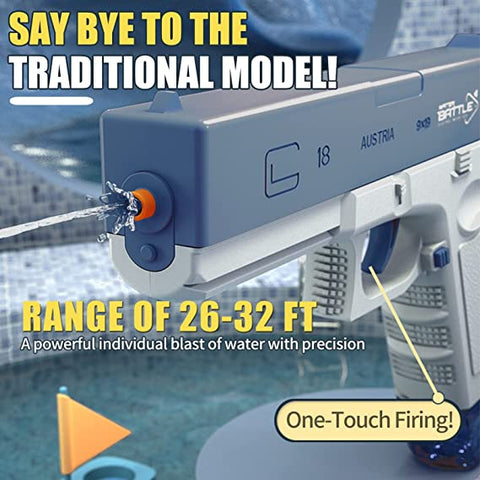 ✅ Packs A Punch: Small body, large capacity, is the biggest feature of this water gun! The grip has a non-slip design. So it can be easily used by adults and children. Suitable for seaside, beach, and pool with friends or family for family fun and interaction.
✅ Two Unique Colors: This AquaAssult™ Water Gun has two colors, pink and blue, which makes it easy to distinguish different camps in water battles.
✅ Semi Water Proof: The water gun is designed with two waterproof layers that can be exposed to water for a short period of time. However, immersing in water can cause damage to electronic components. In addition, we provide free replacement, please refer to our refund policy or contact us in time when you encounter problems!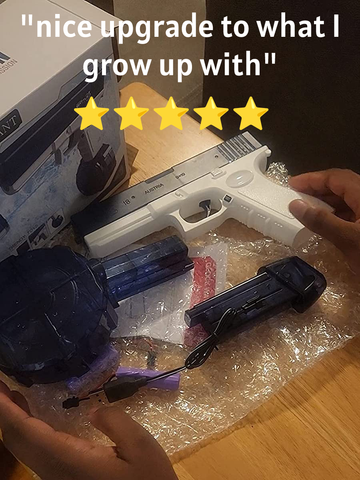 "This is a nice upgrade to what I grow up with rechargeable, easy to put together, it does not leak. Have a nice distance. Very cool."
- Nikki