<50% Sale Is Now Live>
🔥Our Biggest Sale EVER is Now Live! 🔥You can get the Stain Remover™ for 50% OFF! Be quick, as once we are sold out our sale is over. 
Stain Remover™ is revolutionary portable detergent, designed in Australia which allows you to remover your cloth stain easily and more efficiently. it come in a bottle which contain 50ML liquid inside it.  
WHY IS THE STAIN REMOVER™
AUSTRALIA'S BEST SELLING CLOTH STAIN REMOVER ?
The Stain Remover™ is Australia's best-selling cloth stain remover because of its highly effective formula that can tackle tough stains such as red wine, oil, food colour, coffee and many more.
Consistency: "At Stain Remover, we pride ourselves on delivering consistent, high-quality stain removal products that you can trust. Our products are formulated to tackle even the toughest stains, so you can be confident that you're getting the best results every time."
Customization: "We understand that every stain is different, which is why we offer customised stain removal solutions to meet your unique needs. Whether you're dealing with a red wine spill or a stubborn grease stain, our team of experts can help you find the right product for the job."
Innovation: "As a leading brand in the stain removal industry, we are constantly innovating and developing new products to meet the changing needs of our customers. From eco-friendly solutions to advanced stain-fighting technology, we're always looking for ways to stay ahead of the curve.
Customer service: "We believe that exceptional customer service is just as important as the quality of our products. That's why we offer dedicated support to help you with any questions or concerns you may have. Our team of experts is always here to help you get the most out of your stain removal products."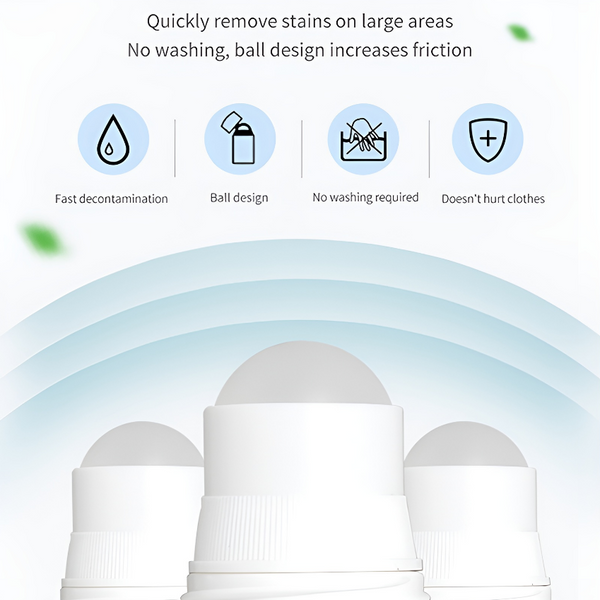 Why you should use our product ?🤔
Our cloth

Stain Remover™

is specially designed to remove tough stains from various fabrics.

It is effective against a wide range of stains, including coffee, wine, chocolate, oil, blood, food colour, pen, marker colour and more.

It is specially designed for fabrics, so it won't damage or discolour your clothes.

The

Stain Remover™

comes in a small and convenient bottle that makes it easy to apply to the affected area.

Because of its simple design you can take it anywhere you want.

It is easy to wash after use.

The

Stain Remover™

is suitable for use on both coloured and white fabrics.

It is suitable for cotton, linen, polyester, blended fabric, denim, down jacket, and so on.

The product has a pleasant scent that leaves your clothes smelling fresh and clean.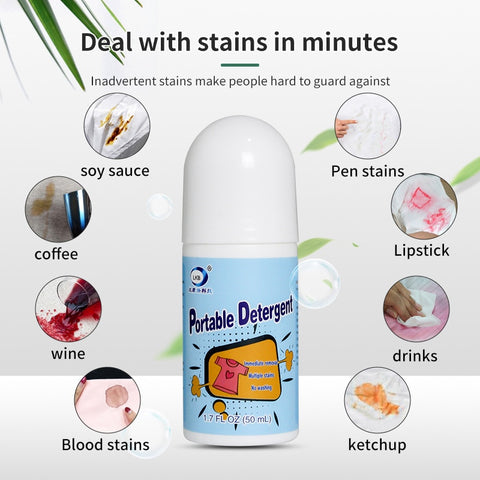 HOW TO USE OUR PRODUCT ?
Identify the stained area: Locate the stain on your fabric and identify the type of stain it is. Different types of stains may require different treatments.
Apply the stain remover: Shake the stain remover bottle well and roll a generous amount directly onto the stained area. Make sure the stain is fully covered.
Let it sit: Allow the stain remover to sit on the stain for a few minutes, depending on the severity of the stain.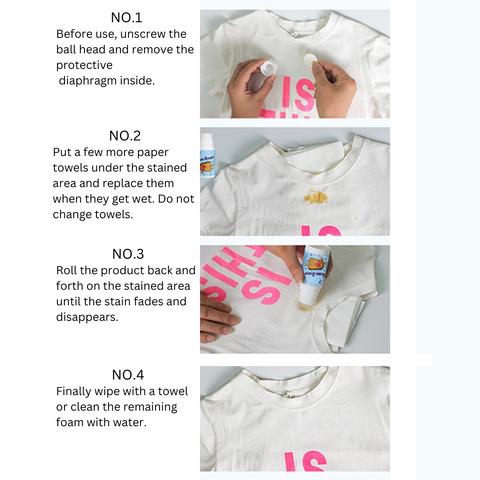 How Stain Remover™ is made ?
It is a mixture of ammonia, water, glycerin, sodium tripolyphosphate, sodium lauryl sulfate, and amyl acetate.
 Feature
Powerful oyx-action stain remover.
Laundering is not always essential.
Septic & grey water safe.
Non-toxic, biodegradable product.
Ready-to-use formula.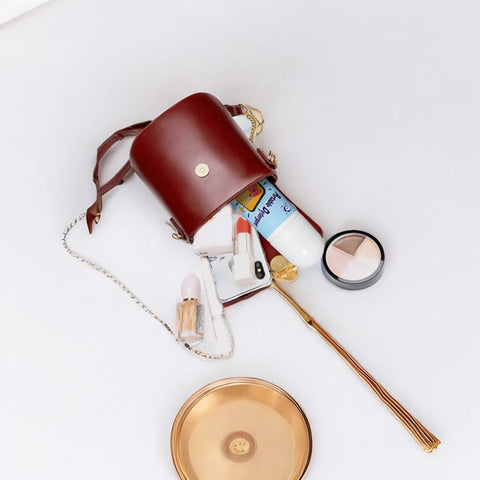 Shipping And Guarantee
🚚FREE Worldwide Shipping: Orders are fulfilled within 12-48 hours so that we may perform a quality check before shipment. Transit times vary between 2-6 business days.

↩️60 Day Guarantee: If you are not entirely satisfied after 30 days, return your cap for a full refund. No questions asked!
🎁Gift Protection: If you are purchasing as a gift for a holiday or event outside of our 60 day return window please notify our team for an extended warranty.
DON'T MISS OUT!
Almost 100,000 people are using this

 
Stain Remover™
. Due to this high demand, we often sell out so please be patient with us as we try our best to keep up with demand. For any other questions or inquiries please contact: strainstrainremover@gmail.com